1. vScope Concepts
To get the most out of vScope it's important to understand the concepts vScope revolves around. It is highly recommended to read the following sections.
1.1 The Concept of Discovery
The Discovery is the inventory process when vScope gathers data from across the network.
1.1.1 How it works
vScope's Discovery runs without the use of any agent software and supports multiple platforms found in the datacenter. The information is structured and correlated by vScope automatically which means that no time needs to be spent on manual relationships mapping. A Discovery can run multiple times a day. The process is always initiated with a ping scan to test if the targets added to vScope are accessible from the vScope server.
1.1.2 Credentials
A credential is the key that is used to login to various systems to gather information. It often consists of username and password but may vary depending on the type of credential.
1.1.3 Targets
Targets are the keyholes where we aim our credentials to in order gather information. A target can be an IP,  a hostname or a range of IP:s in the IT. For cloud credentials it's possible to use application ID and domain as target.
1.1.3.1 Smart Targets
vScope has built-in intelligence to optimize the Discovery coverage. Targets that are found from other targets will automatically be classified as a target for a specific platform. A corresponding credential can then be used to inventory those targets.
1.1.4 Schedules
A schedule defines a scope (credentials, targets or proxies) to be discovered and a frequency of how often. It allows for customization of the Discovery to fit different needs with eg. remote locations in different time zones or to update certain information more frequently.
1.1.4.1 Main Schedule
The Main Schedule is a complementary (default) schedule that is used to discover all credentials and targets not added to any other schedule. The purpose is to ensure full coverage of the discovery scope automatically without having to create custom schedules.
1.1.4.2 Custom Schedule
Targets/credentials of a created custom schedules ofDiscovery Manager, will automatically be subtracted from the Main Schedule to avoid overlapping discoveries and enable full control of the discovery.
1.2 The Concept of Tags & Tagging
Tags and tagging are key concepts in vScope. Master tags and tagging (the procedure of adding tags to resources) to create powerful custom views of the IT. Tags are represented as columns in Table Explorer and as labels on the Properties page. Adding tags to a resource means that it will be categorized and thus better searchable in vScope.
1.2.1 What is a tag?
A tag is a label or notation that stores information about a resource or component in vScope. A tag consists of a Name and a Value. The Name is always in text format while the Value can be a number, date, text or boolean. Tags does not require a value but can also have multiple values.
Name and values can be assigned in four different ways in vScope.
1.2.2 vScope Tags
Tags which name and value are managed by vScope is called "vScope Tags". These tags are static and cannot be updated by the user. vScope Tags are a result of what has been found by discoveries.
Example – OS, VM Name, Installed Applications
1.2.3 Dynamic Tags
Dynamic tags are named by a user but have a value that is dynamically managed by vScope. This can be relevant for customization of the format of a tag eg. excluding a certain value from a vScope Tag or just simply renaming a vScope Tag to set standards.
Example – Installed Internet Explorer Versions, Filtered User Groups, Number of Owners
1.2.4 Reserved Tags
By reserving tags, vScope can build custom content automatically based on the user input.
Example – Billing Account, Service, Owner
1.2.5 Manual Tags
A user defined and managed tag is called a "Manual tag". The user can name this tag whatever he/she like and assign a custom value to it.
Example – SLA, Project Number, Business Unit
1.3 Tagging in vScope
1.3.1 Who can assign tags in vScope?
Permission level Contributor or Administrator is required to access tagging in vScope.
1.3.2 Manual tagging
Manual tagging means that tags are fully assigned and managed by the user. It is like adding a post-it to a folder. It is quick and easy but remember to update these manually in order for them to stay relevant.
1.3.2.1 One-at-a-time
Tags can be assigned manually, one-at-a-time from both the Properties page and Table Explorer.
1.3.2.2 In Table Explorer
Assign a tag to any resource by right-clicking the value in it's column in Table Explorer:
1.3.2.3 On a Properties page
Tags can easily be managed on the Properties page of each resource.
Gray tags are assigned using Manual Tagging and Yellow tags are tags assigned using Rule-based tagging (see below).
1.2.6.2.4 Bulk tag
Add tags in bulk to multiple resources from Table Explorer.
Select the resources for tagging by clicking the blue selection dots
Right-click -> "Add Tag"
Enter Tag name and Tag value
1.2.6.3 Rule-based tagging
By using rule-based tagging it is possible to program vScope to assign tags to resources automatically. This is the recommended method of tagging and will allow automated categorization of resources. Based on specified rules, tags will automatically show up on any resource that matches that rule.
In Table Explorer, select a new table of the resource to create a tagging rule for
Click "Create Tag"
Input name and value (notice that it's possible to have vScope automatically input a value based on rules)
In the filter panel, specify the rules that should be valid for the tag to be assigned to a resource. Notice that there is a preview of the result before clicking "Confirm".
Save and done.
1.2.6.4 Removing tags
Rule-based tags can be removed (or edited) from the Tag Manager . Manual tags can be removed from both Properties and Table Explorer.
1.2.6.4.1 One-at-a-time
Table Explorer
Right-click a row
Hover "Remove tag"
Select the tag to remove
Properties page
Tags can easily be removed from a resource by just erasing the input on the Properties page.
1.2.6.4.2 Bulk delete
In Table explorer, select a number of resources to the left
Right-click and hover "Remove tag"
Select the tag to remove
1.2.7 Tags from related resource
vScope automatically maps relationships between resources. This means that it is possible to see information about different resources in the same view. This is a powerful feature and saves a lot of time from not having to correlate the information. In order to view a tag from a related resource it is necessary to understand that there is a relation between two resources eg. server and a database.
Here is an example of how to view a tag from a related resource.
In Table Explorer, select the starting resource
Click "Add column" and go down to "Get Tag from related resource"
Select what resource
Select what tag
The tag has now been added by default to this resource. It is possible to hide this tag again in Tag manager.
1.2.8 Tag manager
Rule-based tags and tags from related resource can be managed in Tag manager. Tag manager can be found in the sidebar under the Admin section (Admin or Contributor permissions required)
1.2.9 Default tags
When adding tags to a resource, vScope will make suggestions from the default tags. Manage these default tags from the Settings page in vScope. These tags will shown by default on the Properties pages.
1.3 The Concept of Users & Permissions
vScope is a collaborative platform that allows organizations to make information about their IT accessible to anyone in need of relevant insights. In order to access the information, a vScope user account is required. This account can be used to access reports, documentation, analysis and Dashboards or, if an admin account, used to distribute and publish information to stakeholders of IT.
1.3.1 About user accounts
1.3.1.1 Manual user account
A user account can manually be added to vScope. All user information and settings are stored in vScope.
1.3.1.2 User account from directory service
A user account can be created using the settings from a directory service (eg. Active Directory). This requires an integration to a directory service. Once set up, users will be able to reuse their domain account's credentials to login to vScope. A user generated from a directory service is highlighted with a globe in the User and Groups section.
User accounts from a directory service is automatically mapped to a permission group in vScope based on its directory group belonging.
Read more about how to integrate vScope with a directory service.
1.3.2 Permission groups
A user account's right to view information in vScope is defined using Permission groups. There are four permission groups.
1.3.2.1 Admin
Can view and browse all information, add more information and add more user accounts to vScope.
1.3.2.2 Contributor
Can view all information and add more information to vScope using tags.
1.3.2.3 User
Can view all information.
1.3.2.4 Viewer
Can not view any information in vScope by default. Reports, documentation and dashboards must explicitly be shared with the viewer.
1.3.3. Custom groups
Accounts can be categorized into groups. Use the groups to quickly share information to all persons in a group. Custom groups have no permission level.
1.3.4. Collaboration
Content in vScope can be shared using the collaboration features. Collaboration in vScope is very easy and consists of saving information/views, sharing it with other vScope users and set an access mode to the user. Admins will always have write permission to any content.
1.4 The Concept of vScope's API
1.4.1 Accessing the API
Every licensed vScope includes an open REST API which can be used to either extract or inject information in and out of vScope. Access the API documentation by browsing to:
http://[VSCOPE-SERVER-NAME]/apidoc/
In order to access the API one needs to be logged in as admin in vScope.
The API documentation provides a brief overview of all GET, PUT, DELETE and POST methods. It is not possible to inject information into the vScope data model but it's possible to use PUT/POST methods to eg. update tags or targets in vScope.
1.4.2 API Tokens
API tokens are used to provide additional security to the vScope data. In order to use the API it is necessary to add an account in vScope that can be used to represent the API token. The token is passed as a request header. By setting an expiry date the token will only be valid a limited time.
2. Discovery Manager
2.1. Overview
Discovery Manager manages vScope's inventory. This is where to set up what to discover, when to discover it and improve the overall inventory coverage. Discovery Manager consists of five main sections plus one setup wizard.
NOTICE – To access Discovery Manager a user needs to be an Admin in vScope.
2.2. Discovery tab
The Discovery tab is where the overview and results from Discoveries. It is also possible to manually trigger a Discovery from here. In this tab there are three sub tabs that provides additional information about the Discovery performance.
2.2.1. Overall performance
The overall performance suggests improvements to the discovery. The improvements ranges from speeding up the Discovery by removing certain targets, to better coverage of IT resources.
2.2.2. Discovery results
The Discovery Results tab shows the results from the most recent Discoveries. It is possible to filter on the different results to see what was successful, if there were any errors or no results from the discovery. During a running discovery there is an option to toggle whether to view current progress or not.
By using this information it is possible to troubleshoot and inspect potential misconfigurations. Here it is possible to view a detailed log of the Discovery.
2.2.3. Log history
Log history is the detailed logs library from the latest Discoveries.
2.3. Credentials
Manage the credentials used to discovery information in the Credential tab. From here it is possible to add, edit or delete credentials. Notice that each type of credential requires a different kind of information. Credentials are ASSIGNED to targets. The fourth column highlights how many targets a credential has assigned.
2.3.1. Create Credential
Click on the "+ Credential" to add a credential. Select what platform to add, input information and then select what targets to use with the credential.
2.3.2. Edit Credential
It is possible to edit the credentials by clicking on it. For example, one may want to update the credential with a new password information.
2.4. Targets
Targets in vScope are IPs, hostnames, ranges or cloud portals to which are aimed (assigned) to Credentials. A range is a scope of IP addresses, a way to shortcut many single IP targets. Virtualization hosts or domain controllers would probably use single targets but for larger server or printer networks we suggest to use IP ranges instead.
Targets are by default inventoried from the vScope server, but it is possible to assign targets to Proxies (See 2.5.) and have them inventoried from another machine, e.g. a DMZ.

2.4.1. Add Target
Click the blue "+Target" button to add a target. Specify an IP/hostname/range and add a note (optional) about the target. Choose whether to use an existing Credential in vScope with the Target or add a new one.
2.4.2. Edit Target
Edit a target by clicking on it. Change the IP-range, add a note or assign a new credential to the target.
2.4.3. Smart Targets
Smart Targets are found under the Targets tab. They are highlighted green and grouped depending on platform. They are easy to use. Simply assign a credential to the target (of the correct credential type). Just remember that it is necessary to add either an AD/LDAP or VMware/WMI credential to find any Smart Targets from other platforms. Take note of the "Hide unassigned" toggle button which by defaults is hiding all credentials that are not in use.
2.5. Proxies
Proxies are used to do discoveries in networks where the vScope server might not have full access, such as a DMZ or a customer's network. Proxies are also beneficial for discoveries of remote networks. vScope proxies communicate with the main vScope over one single port.
2.6. Schedules
A Schedule is a way to configure: what resources shall be inventoried and when. Adding multiple Schedules allows for discovery of information from different parts of the network at different times and intervals. Perfect for remote branches, closed networks or keeping information from some platforms up-to-date more frequently.
The Schedules tab is where one adds and manages Discovery schedules to run. By default there is only have one schedule – a Main Schedule.
2.6.1. Main Schedule
The Main Schedule discovers, by default, all credentials and targets that have been added (and enabled) to Discovery Manager. Once more schedules are added these credentials/targets are subtracted from the Main Schedule. Select when and how often the Main Schedule should run by clicking on it.
2.7. Settings
The Settings tab allows for to customization of the Discovery. Eg. when to mark resources as removed. Use the skip list if there are resources on target ranges vScope's not supposed to inventory.
3. Dashboard
The Dashboard provides a direct window into vScope, the data collected and highlights the most important information. In addition there is access to collaborative features that allows for building common views for colleagues for meetings, project plans, follow-ups, compliance and much more.
Quick overview
3.1. About Dashboards
Dashboards consists of widgets. A widget is dependant on a table that's built in Table Explorer. Add favourite widgets to a dashboard and  favourite dashboards.
There are two type of dashboards.
3.1.1. Bundled dashboards (from InfraSight Labs)
These dashboards are provided by vScope. They are designed and maintained by InfraSight Labs. It is not possible to edit or customize collaboration of these dashboards.
3.1.2. User created dashboards (from users)
Create dashboards customize them for the organization's need. Edit and share these to other colleagues that are vScope users.
3.2. Sharing & Collaboration
Manage permissions of a dashboard under the Collaboration setting. This decides what other users that can view the Dashboard.
A user can either have Read or Write permissions on a dashboard. All vScope Admins will automatically have write permissions on all dashboards. In the example below, the colleagues Eric and Nikolai are added to a dashboard. Only Nikolai will have write access (making changes to the dashboard).
How it looks for Eric:
How it looks for Nikolai:
All widgets (See 3.4.) are connected to an underlying tables, vScope therefore evaluates if the user have access to read the underlying table. This means that if the user is not allowed to access the table the widget is built upon, the user will not be able to click the widget to view more details.
3.3. Manage Dashboards
Browse all available dashboards under Manage Dashboards, select favourites or create new dashboards.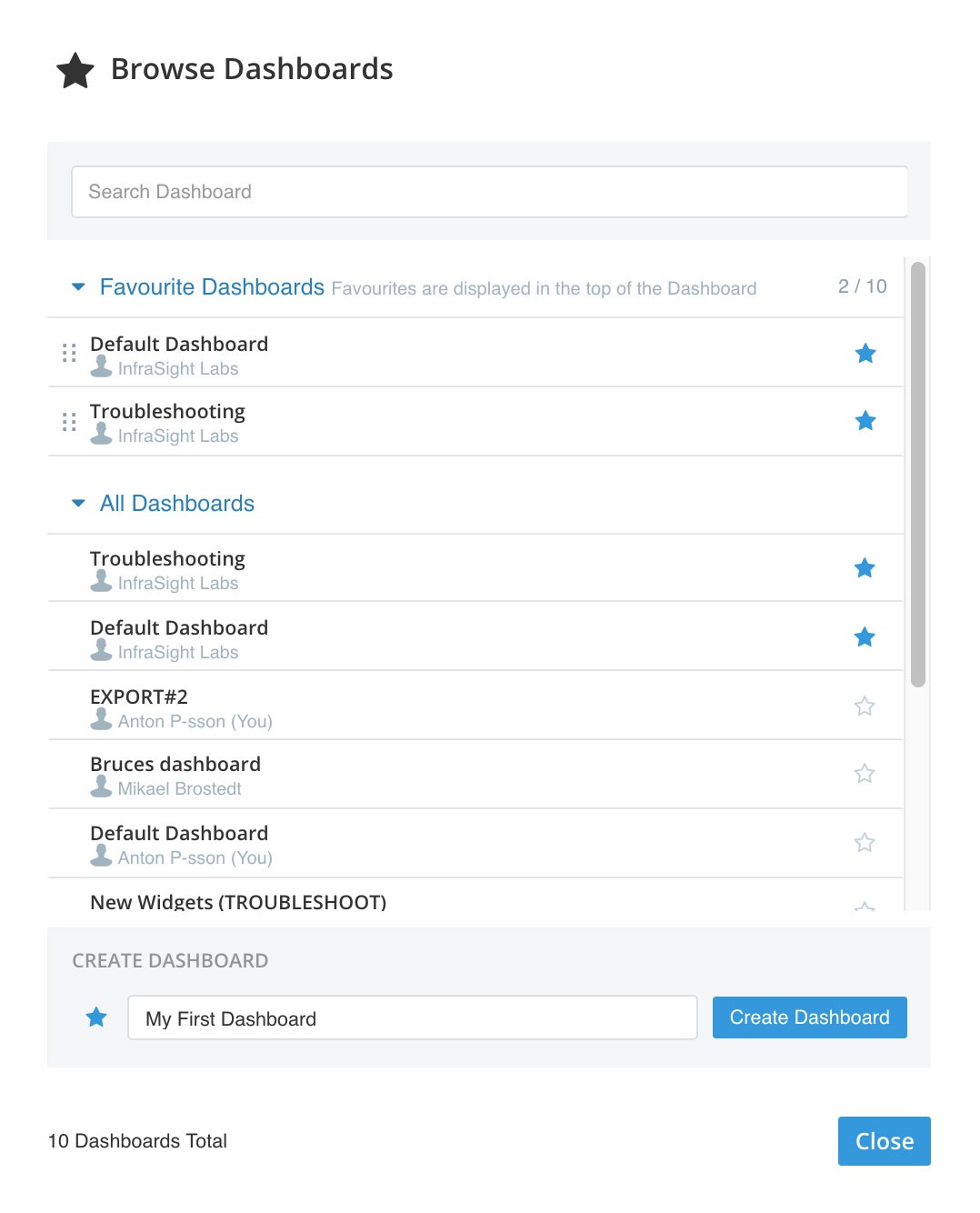 3.3.1. Favourite dashboards
In "Browse Dashboards" it's possible to favourite dashboards with the star button. By favouriting a dashboard they will be added to the dashboard quick access menu.
Favourites
3.3.2. Creating a Dashboard
Click "Create Dashboard". This will automatically create a Dashboard and lead to the "Edit mode".
3.4. Edit Dashboard
In Edit Dashboard it is possible to choose what information to view on the dashboard. Customize widgets and change name of the dashboard.
3.5. Widgets
Widgets are a representation of the content of one or more tables. There are different kinds of widgets, all with some specific benefits for visualizing important metrics. Every widget comes in two sizes:  1×1 or 2×1. Add widgets from the right-hand side of the screen when in edit mode.
There's no cap on the number of widgets on a dashboard.
3.5.1. KPI widget (Key Performance Index)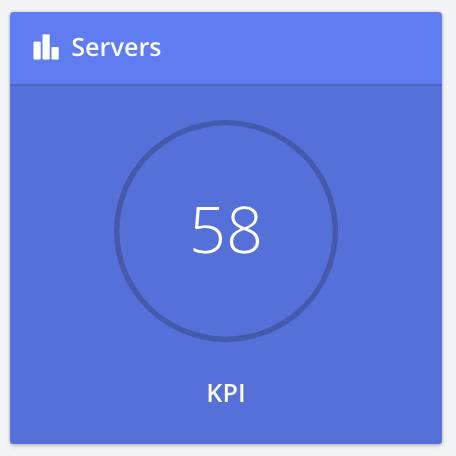 A KPI widget is a visualization of a number in a table. This can be count, sum, average or unique. It helps answer simple but important questions about eg. number of servers, number of databases, total file system size, average number of applications/server. The 2×1 size of the KPI widget also includes history.
3.5.2. Ratio widget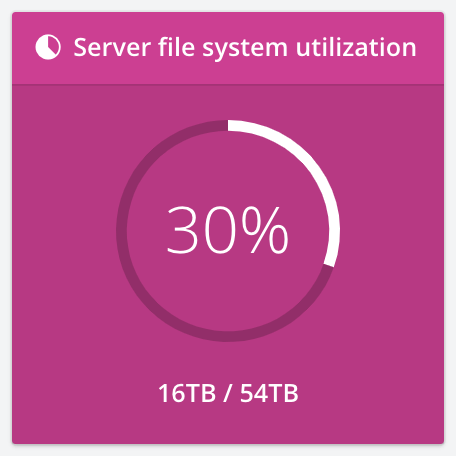 The Ratio widgets shows a relation between two values (between one or two tables). Examples are row counts, sum or average of a table. This is important in cases when one want to know more about eg. utilization. The larger size (2×1) of the Ratio widgets includes history.
3.5.3. Top 5 widget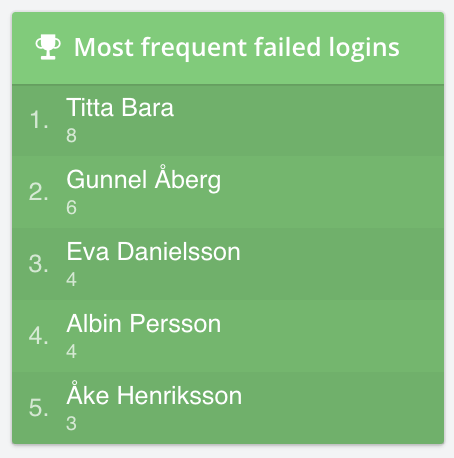 Top 5 widgets lists multiple values from a resource in one widget providing a good overview of, for example:
Which are our largest databases? Most active users? Least used file system? etc. The 2×1 version of this widget includes a third value to shows more details.
3.5.4. Comparison widget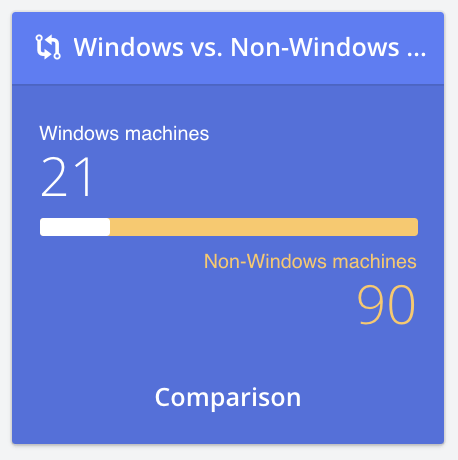 Comparison widget offers comparison of two different numbers in the same widget. A good way to understand how different values relates. In the expanded 2×1 size it's possible to see a plot of how the two values have changed over time.
3.5.5. The Tracker Overview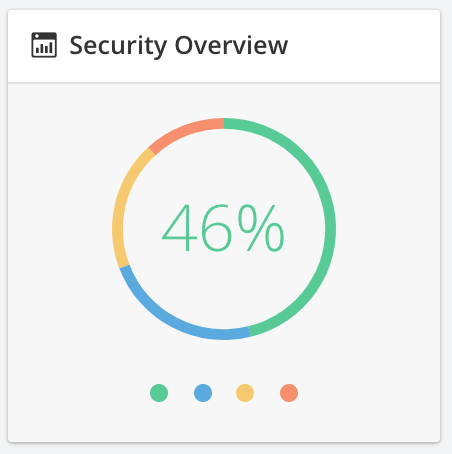 This widget shows valuable information about compliance of the IT. It can either show the overall Tracker performance or choose to only show performance for certain interests eg. security or backup. 2×1 provides more details.
3.5.6. Single Tracker case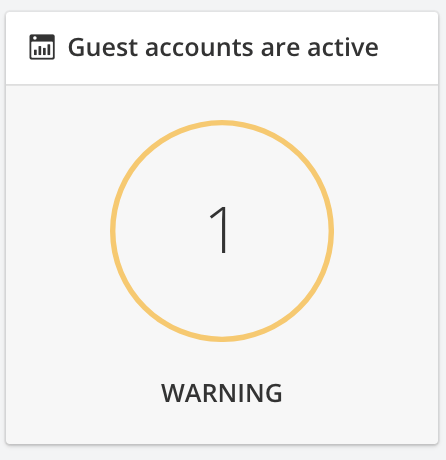 The Single Tracker case widget shows the result of any analysis. Notice that the circle will turn green, yellow or red depending on the severity of the case. Expanded version gives more details.
3.5.7 Creating a widget
It is possible to design personal widgets instead of using those that are bundled with vScope. This is done by clicking "Create widget" in edit mode. Repetition: Every widget depend on information from tables. This means that it is necessary to either build tables in Table Explorer or make use of the Tailored recommendations that comes bundled with vScope when creating widgets.
To build a widget one needs a table, select a column from the table to visualize in the widget and what aggregation type.
It's also possible to create a widget directly from a table in Table Explorer.
3.6. Title
Change the name of dashboards in Edit mode. Note that it is not possible to edit the name of pre-made dashboards.
3.7. Auto refresh
The auto refresh option enables updated widgets without having to reload the browser. Perfect for presenting dashboards on monitors.
3.8. Full Screen
Allows for a full screen view of the dashboard. Switch between between day and night mode.
4. Table Explorer
In Table Explorer we can build reports and tables that are dynamically updated. This means that the table is designed once and then reuses the "recipe" to always have relevant information at hand. There are many similarities to working with spreadsheets and the experienced spreadsheet user will quickly feel comfortable.
4.1. Overview
In the "Explore view" of Table Explorer it's possible to build tables with information about the resources discovered by vScope. There are three basic steps to follow to build a table:
Click "New Table" and select a resource
Choose columns (what information would to view)
Filter the view
4.1.1. Resource
Every table is based on a resource. This is the "theme" of the table. See the main resource of a table in the top left corner (above the table name), in this case "All Machines"
Create a new table at any time in Table Explorer by clicking "New Table"-button and select the resource.
4.1.2. Columns
Columns are tags and information that relates to the table resource. It can be an IP address, applications, connections, name, RAM or anything else that needs to be included in the table. Add columns by clicking the green "+"-button to the right in the table header. Notice that the information added does not have to be directly related to the selected resource. It can also be from a neighboring resource such as certificates, databases, storage or Active Directory.
4.1.3. Filters
No scripting skills are required when filtering in vScope. Filters are simply added by clicking on them. The filter panel is the blue section to the right in Table Explorer.
Decide what tag (column) to filter on
Expand the tag name
Select the value(s) that needs filtering
Notice that the actual tag does not have to be added to the table in order to filter on it. Simply click the boxes to add filters. If clicked twice a "NOT" filter is added.
In the image below there are four filters added:
Show All Machines (the resources type) with 2 CPU Cores
AND
Show All Machines with 4096 MBytes OR 256 MBytes of RAM
AND
Hide All Machines wher OS Type is NOT Client (click twice in the checkbox OS Type – Client)
4.1.3.1 Different filters
4.1.3.1.1 Match filters
The match filter can be used to match *values* that may not have the exakt same name. The match filter in the image below tells vScope to show all machines where OS = "*windows*". With this every OS value that matches "Windows" will be shown in the table.
4.1.3.1.2. Range & Date filters
Filter on ranges and dates. For example only view accounts that have been used the last 90 days (- 90).
y = years
d = days
h = hours
m = minutes
s = seconds
4.1.3.1.3. Regex filters
Regex filters are more advance than the basic filter options. Read more about regex in vScope here.
4.2. Additional features
A table can be further customized using tabs and history.
4.2.1 Group By
Grouping a table will create a tab for each unique value of a tag (column). This is very convenient in order to quickly categorize resources.
4.2.2. History & Compare
History & Compare provides the power to compare two revisions of a table. This is a very powerful feature in order to view changes and identify trends of the IT.
4.3. Actions
Once a table is built it's possible to use it for further actions.
4.3.1. Save Table
By default, a table will be named "Untitled" until it is saved. Saving a table will allow for distributing tables as a report by configuring collaborators and schedule settings. Click Save Table -> Enter a table name, an optional description and hit Save. The latest version of the table will now be accessible under the section "Browse tables" (see 4.4.).
4.3.2. Additional table options
Use tables with the other functionalities in vScope. By clicking the arrow next to "Save Table" it is possible to create a widget and add it to a Dashboard, use it as a tracker case or save it as a copy to modify the table for another purpose.
4.3.3. Share Snapshot
Sometimes it's necessary to quickly to share a table with all findings. This can be done with "Share Snapshot". Sharing a snapshot will provide a direct link that leads to an exact copy of the table at the time it was sent.
The snapshot includes:
Selected resource
Tags (columns)
Filters added
Group by-settings (found in the bottom left corner)
This is an easy way to allow colleagues to view reports/documentation.
4.3.4. Collaboration
Collaborators are other vScope users that can access, view and edit a saved table depending on their permission level. There are no limits to the amount of collaborators. Set the permission level in the collaborators float.
4.3.5. Schedule report
Within the Collaboration float there's the option to "Schedule report". This is to schedule an email notification to any collaborator of the table. Select "Schedule report", set a schedule and select receivers of the email update.
4.3.6. Export
Take the tables elsewhere and export the it to either XLSX or CSV.
4.4. Browse Tables
All the saved tables are located under the "Browse view" of Table Explore. This includes:
Tables you have created and saved
Tables that you are a collaborator of
Tailored recommendations, bundled table presets built by vScope
Besides opening the different tables (by clicking on them) it's also possible to manage collaborator settings or deleting the table (please notice that this option is only available for table owners or those with write permissions to the table).
4.5. Create Tag
Creating tags are central in vScope and puts the IT in a context. Clicking "Create Tag" takes the user to the tag mode where they sees a preview of the tag to be created. Filter what resources to be assigned a tag and click save.

Read more about managing tags at Tag Manager.
4.6. Context menu
Right click on a value in a column to open the context menu. There are several options in the menu such as viewing a resource in its Properties page, managing tags and different filtering options on the value.
4.6.1 Plotting charts
Plot charts for values over time by clicking "Show History Timeline".
4.6.2. Quick filter
Quick filter columns (tags) by right clicking and use the options "Hide" or "Only Show".
4.6.3. Track value
Create a Tracker case to get notified whenever any changes are made for a chosen value.
5. Properties
Properties is the complete documentation of a resource that vScope have inventoried. View all information found about a resource and also refine it with custom notes or tags.
5.1. Timeline
The timeline in Properties shows changes related to the resource over time.
5.1.1 Hiding entries from Timeline
If the Timeline shows entries that are not relevant it's possible to them by clicking the "eye icon" next to the entry.
Unhide entries by clicking the cogwheel icon:
5.2. How to access a Properties page
It s possible to access Properties in two ways:
5.2.1 Omnisearch
Search for anything vScope have discovered by using the Omnisearch bar.
5.2.2. Table Explorer
Right clicking on a resource to know more about it in Table Explorer.
6. Tracker
Tracker is the automatic analysis of the information found by vScope. Tracker consists of Tracker cases. A tracker case is basically an analysis of certain data.
6.1. My Interests
All Tracker cases belong to one or several interests/categories. Filter to only show certain types of tracker case categories by clicking on it in Tracker.
Click on a interest to only view its related cases.
6.2. Tracker case severity
Each tracker case also has a severity level. OK, Notice, Warning or Critical. Choose to only view cases of a certain severity by toggling them on or off in Tracker.
6.3. Search
Search for a Tracker case by using the search bar.
6.4. Tracker Case Details
Clicking once on a case provides a quick overview of the related resources and a short description of the analysis.
Clicking on "Details" provides a more detailed view of the tracker case and the corresponding table. There's also a provided suggestion for how to fix it. Edit the Tracker case by clicking the "Edit" button.
6.5. Mute cases
Mute the cases that are irrelevant or one don't wish to see. It's possible to view and restore the muted cases in the "Muted Cases" tab.
6.6. Follow Tracker Cases
Click FOLLOW on Tracker cases to receive notifications whenever something changes eg. a case is opened, closed or if it gets worse or better.
 6.7. Create & Edit Tracker Cases
Create a Tracker case by clicking the "Create Case" button in top right corner.
A case is based on a table and a set of rules.
6.7.1. Apply on
Choose what resource type to base the tracker case on.
6.7.2. Interests
What categories the Tracker case should belong to.
6.7.3. Computation
In some cases, certain rules can't be created with the default options in the filter panel. But with the help of "Computation" you can create some more advanced rules.
For example, let's say you want to filter out all the duplicates in a table. In these situations a computation function can be used, these functions are custom-made by our development team. Therefore they can sometimes be hard to grasp as a user, as they are primarily intended to be used for very specific tables that come prepackaged with vScope.
6.7.4. Change
Decide what kind of change that needs to happen for the tracker case to send a notification.
6.7.5. Create Tracker case from a table
If there's already a table to use for a tracker case it's possible to create it from the Table Explorer.
7. Tag Manager
The Tag Manager allows an overview, creation and to edit existing tags in vScope.
Notice: Currently it's only possible to view the tags that are "Rule-based" ("Yellow" tags) in Tag Manager.
7.1. Create tag
Click the "Create Tag" button in the top right corner. It's also possible to access the tag creation from the Table Explorer.
The tag creation takes place in the Table Explorer where one set rules for the tag by adding filter.
Fixed value – i.e mapping a resource to a certain IP range
Value based from related resource – for example automatically map customers from a VMware folder structure, but filter out certain folders
Value from other tag – for example a version of an installed software tagged directly to a machine
7.2. Edit tag
To edit a tag click on it in Tag Manager. A bar will appear to the right where it's possible to either change the name of the tag or enter the tag editing mode.
7.3. Delete Tag
Click on a tag and on the "Delete" button on the bottom left to delete it.
To bulk delete multiple tags at, select the tags using the selection dots and click "Delete X tags" button in the top right corner of tag manager.